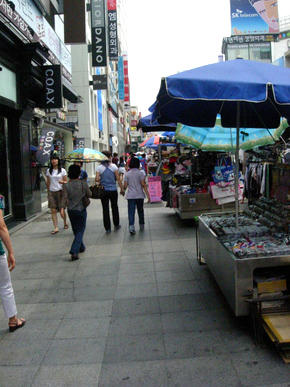 City street vendors, known as "Daegu's specialty," are visited by almost one million people everyday, but a new government reconstruction plan requires that they pack up their stalls.
According to Daegu's Central office, the city will be undergoing a new public design project on the road from Daegu Department Store to Daegu Station. The renovation will impact some 150 vendors, who must abandon their stalls and shops until the construction is complete.
For the past 50 years, the vendors have earned a meager income by selling watches, hats, street food and cellphone accessories to the crowds that pass through each day. Deprived of access to the area and its heavy human traffic, many worry they will be unable to make do while they wait to return.
"How we can survive the rest of time?" seemed to be the universal question from most vendors.
Many are concerned they lack the job skills to find employment elsewhere, like watch seller Mr. Kim.
"I have been selling for 30 years, what should I do if I am kicked out from here? I don't have any plan for living," he said.
Others have even demanded the government step in and replace their lost livelihood.
"You should give us another place for selling goods or an alternative way of living," a hat vendor said.
So far, no such reimbursement has been announced, though the Central Office said it will relocate 30 of the vendors to an area near Cellphone Street, about 1 km from Dongseongno.
"I heard we must go away from here until the project begins. We are discussing this problem," a representative of the vendor's said, responding to the announcement.
The Central Office will invest three million dollars on the project. The planned renovations include planting trees and adding some benches to Dongseongno, remaking Daegu's ancient castle and changing store signboards to look smaller and more attractive. The project will start next month and is scheduled for completion in January, 2009.
"The vendors must finish selling by the end of this month and after the project, it'll be hard to do again," Daegu central city project chief Sung Nak-Joon said.
According to the Central Office, the decision was only reached after much discussion by a committee, which included university professors.
Source:Hankyoreh
Translated by Jeon Jiyoon
Proofed and edited by Frank Johnson